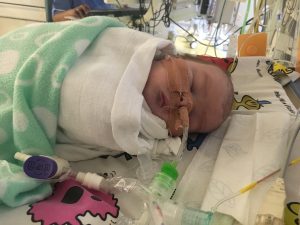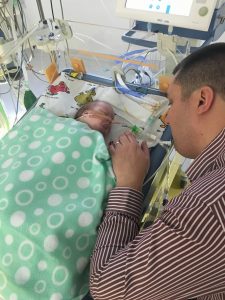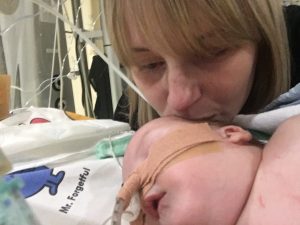 SURGERY DAY
After a sleepless night, I made my way to Thomas at 6.30am. He was due to go for surgery at 10 so I wanted to spend as much time as possible with him before he went.
I met with the surgeon, Attilio Lotto, at 7.45 who went through what he planned to do, and the risks associated with the surgery and then the added risks because of Thomas' age. We were told to expect him to come back with an open chest, and possibly on ECMO (a machine doing the work of his heart and lungs to give them a rest).
So then we waited. He was due to be taken at 10am, however due to an emergency case, he didn't go in until 12.
Then we spent the next 8 hours waiting, thinking, and feeling sick. The longest, worst 8 hours of my life. Not knowing what was happening, what would happen, if we would see him come out of it ok.
Dan was positive throughout the day and kept up the thinking that no news is good news.
We were told the procedure should take about 5 hours so we started calling at about 5pm for updates. there was as no update available until 8pm, when we heard that he was being wheeled back into ICU and that we could come and see him in half an hour.
I cannot and will not ever be able to describe what that moment felt like. Sheer relief. Disbelieve. Completely proud of my little warrior.
We made our way up to ICU and met with the surgeons who told us that they had managed to patch the VSD and ASD holes, pilcate his enlarged arteries to a hugely reduced size and fit a patch over his absent pulmonary valve to act as a makeshift valve until he is bigger and can have an artificial one fitted. He didn't need to come back on ECMO but he did have his chest open as expected, due to swelling.
Shaking the hands of the surgeon who has only hours earlier had his hands inside the strawberry sized heart of my new born was an experience I will never forget.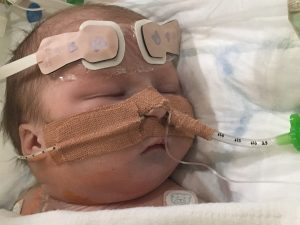 Thomas straight out of surgery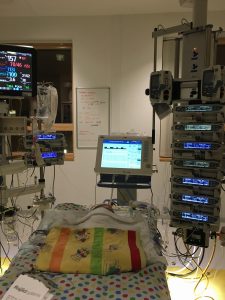 The control centre…