The 29th April 2020 will mark two years since our beautiful baby boy Thomas died, in our arms, changing our lives forever.

Two years without him. Two years of what ifs, what could have beens and what will now never be.

So much has happened in two years. But yet, it still literally feels like last week that we were in the thick of it, sat with him, having 'those' conversations and making the most horrific, heartbreaking decisions, ones that no parents should ever have to make.

We want to mark this month. April. The month that we dislike very much, because the whole month is a lead up of thoughts and memories, culminating in the ultimate loss. The death of our child. This will never, ever go away.

Our plans for the end of the month are shattered. Our support network, massively altered. We are dealing with this month, on top of everything else going on in the world at the moment. And it is not easy.

BUT.

I want to make it positive. I want to turn around a very challenging situation and make good of it. So I can't change what's going on with the pandemic. But I can try and make a difference to a hugely valuable service, that looks after critically ill, life-limited children, and children and their families once they've sadly died.

Claire House Children's Hospice were there for us at the worst time of our lives. They gave us time. 3 weeks. To spend with Thomas, once he had died.

They helped us make memories, as a family of four. Things we'd never been able to do before. Like cuddle our baby on the sofa. Sit, with our two children, Luke a 'normal' family. Play. Look after Henry, our nearly 2-year-old. Make sure his needs were met, when we weren't meeting our own. Cooked and cleaned for us. Gave us a place to stay, so we didn't have to leave Thomas (more on Claire House in the at 'what happened next').

Why am I writing this?

I've decided to try to raise as much money as possible throughout April, by asking for sponsorship. I'm going to do something I've never done before.
I'm going to RUN EVERY DAY OF APRIL – To be called RED APRIL (complying with social distancing of course and in my allotted exercise time). I'm not a runner. It's going to be a lot of hard work!

But, like many, I feel the need to get up and do something. To help. To have a purpose. To make this unprecedented time mean something. To honour my child and to keep his memory living.

To raise money for the place that kept us going. That gave us purpose and that made our time with Thomas mean so, so much.

Please consider a small donation. Maybe the price of an Easter egg, or a pint at the pub. I know this is a difficult time for many and money is tight. But the cause is so incredibly important.
Your donation could help a family, like ours, in the worst time of their lives. When they need help more than ever. And you can play a part in helping them.

Thank you!
Emma x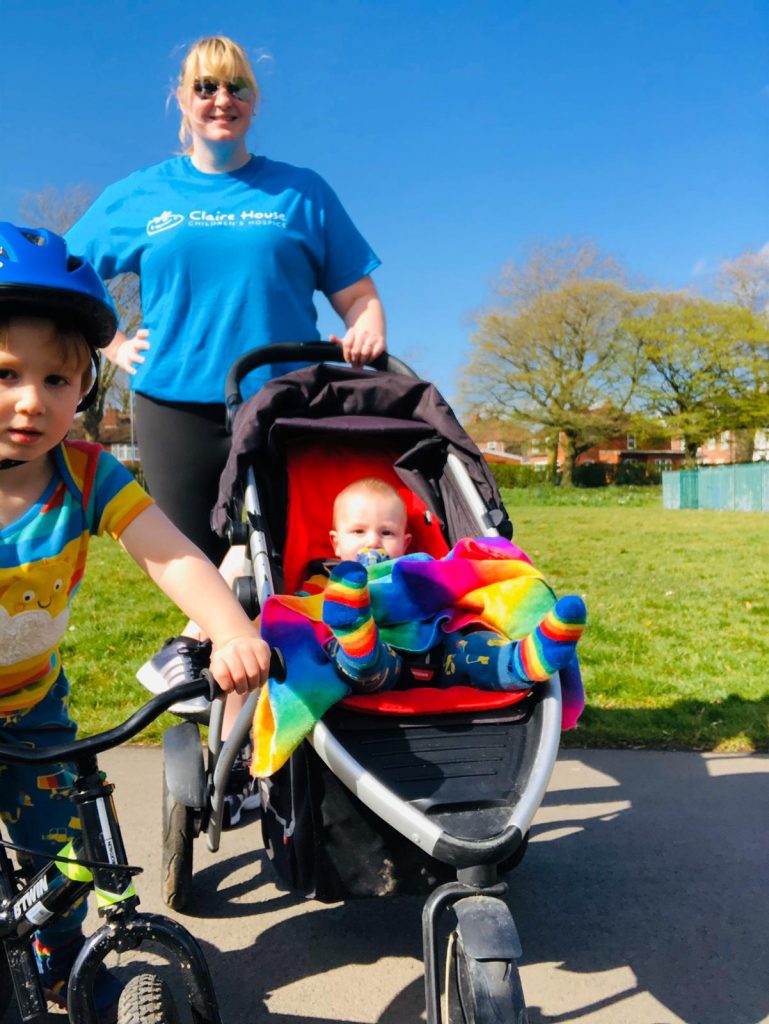 Zoe Holbourne
RED April 2020
Amount Donated
£5.00
Artemis Xanthopoulou
bless all of you and thank you
RED April 2020
Amount Donated
£50.00
Anonymous
RED April 2020
Amount Donated
£10.00
Lorin Evans
Well done your amazing!! 💙Thomas💙
RED April 2020
Amount Donated
£10.00
Anonymous
RED April 2020
Amount Donated
£5.00
Sophie
In memory of my ICU, be brave and star friend Thomas. Love always Sophie Walker
RED April 2020
Amount Donated
£20.00
Jane Holland
RED April 2020
Amount Donated
£5.00
Caroline Cregeen
Well done! Fantastic achievement x
RED April 2020
Amount Donated
£5.00
Edward Martin Taggart
Thinking of baby Thomas and you all, as always. Love Mum & Dad
RED April 2020
Amount Donated
£100.00
Anonymous
RED April 2020
Amount Donated
£10.00
craig robinson
RED April 2020
Amount Donated
£30.00
Kelly Wakefield
RED April 2020
Amount Donated
£5.00