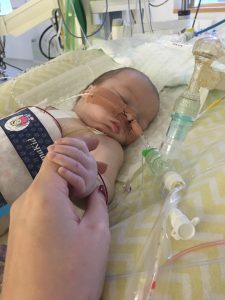 Thomas was till in SVT from last night when I went back this morning. After trying everything to get him to self correct, it was decided to give him the adenosine.
I was asked to leave while this happened as apparently it can be very unpleasant to watch. The drug worked immediately with one small dose and he was back in normal rhythm.
He also revived a blood transfusion due to low haemoglobin.
Then was a left to rest for the rest of the day.
In other news, when I popped back over to my room, I was greeted by the most lovely surprise – rainbow heart balloons for my rainbow heart baby! Overwhelmed!!! Thank you so much to the Yates' and the Pollock's. You made my day!