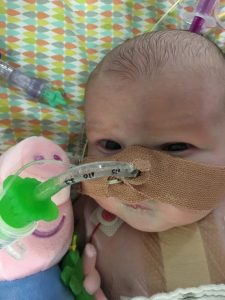 Thomas has sepsis 🙁 His infection markers were very high this mourning at 177.
Blood cultures taken showed that his central line going into his right groin is the source of the infection so it has been removed. He also had a central line in his left groin which will be removed once he has a new line put in his neck.
He also has a very large bruise like area that has appeared on his leg. This is thought to be as a rbig suit of a blood clot forming by his central line. He's been given two types of antibiotic to help with the infection.
We no just need to wait for this to start to clear before making any more progress with his ventilation. Small changes on rate and pressure were made but just to make sure he wasn't being over ventilated.
Get better soon please Tom!