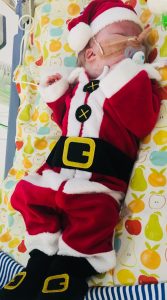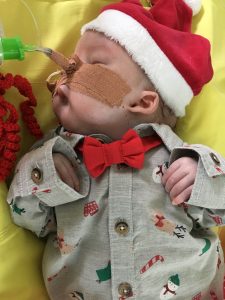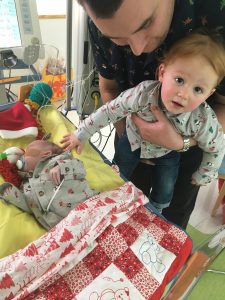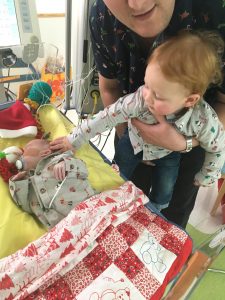 Merry Christmas!!
We arrived this morning to see that Father Christmas had visited Thomas and left him a massive sack of presents 🙂
He was dressed in his Christmas shirt and we opened his presents with him. He opened his eyes to have a quick look, but was obviously too exhausted from his late night last night, where he's managed to make Dan and I a Christmas card with his footprints and handprints on 💙.
Not much went on today – vent changes and sedation weaning. A settled day 🙂
ICU at Christmas is not where anyone wants to be, however a lot of effort had been put into making the day special for the children, parents and nurses.
Nurses and sisters all had festive scrub tops, the children all had their sheets changed over night to have Christmas sheets put on (most of the children aren't dressed, so that makes a massive difference. We are lucky to be able to dress Thomas).
A sandwich buffet was also put on for parents which we were able to take back to the bedside as a one off only. Christmas music was playing and it was a lovely atmosphere.
Dan and I were also overwhelmed to receive a very thoughtful gift bag that had been put together by a family who were on PICU last year. A very generous gift that meant a lot to us. Thankyou Katie and Dan Garden – you made our day!