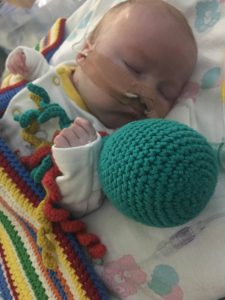 This morning started with a sit down meeting with Thomas' lead consultant and another intensive care consultant who is also a lead long term ventilation consultant.
Although Thomas hasn't failed to extubate a third time, they are starting to look into the possibilities of long term ventilation (LTV) for Thomas, which would be in the form of a tracheostomy and vent to go home on. This is not a road we particularly want to walk down, but if it's what Thomas needs, then that's what we will do.
We had a very positive meeting which lots of explanations and questions posed and if not answered, ideas on how we can explore them further.
So for now, Thomas has around a week to see how he does ventilation wise before any more decisions are made about LTV or possible surgical options to see if his airways can be improved.
As mentioned in previous posts, Thomas suffers from tracheobronchomalacia- which is compressions of his large airways. He's had many diagnostic tests and imaging done on his airways before and after surgery and although most of the compression from his great vessels has been removed, he is left with the floppiness caused by the compression as he delecoped. This is our biggest issue at the moment and why he is struggling to come of the ventilator.
After the meeting, he immediately had another bronchoscope performed just to have another loon down his trachea and bronchi but this time with the LTV consultant present (as well as an airways specialist, his lead consultant and another senior consultant). Although the results were known – he has collapse in his air ways, we are lead to believe that actually it's not as severe as originally believed and the areas of collapse are not as bad as previously thought. But only Thomas will be able to tell us how these affect him. Time will tell.
Everyday, Thomas has blood tests done to show us what's going on. Unfortunately today showed a huge increase in his inflammatory markers. He's junped from normal levels, into the hundreds which is a big concern. As of now though, he looks great and is doing great ventialtion wise.