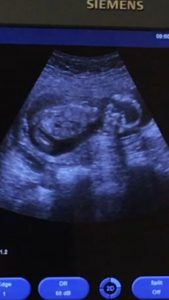 Exactly one year ago we heard the words 'I'm really sorry but there's a problem with your baby's heart'. And in an instant, our lives changed forever. At that moment, we had no clue what the future held for us as a family, or for our newborn baby boy/girl. We could only hope for the best. And we got better. We got Thomas. 
Our beautiful, strong, courageous fighter who went through more in 185 days than most of us ever will in a life time. He taught us what a true fight is, he showed us what true commitment is and he proved to us that life is short and that every moment of it must be celebrated, cherished and loved and nothing should be taken for granted. 
We have to face the rest of our lives without Thomas, but we can keep his legacy living though us. Through talking about him, celebrating his life, and continuing raising awareness and raising money for Alder Hey ICU, Claire House and Ronald McDonald House. 3 charities that without them, we wouldn't have had the time we did with Thomas. 
1 year ago yesterday, we lived normal, happy and sheltered lives. 1 year ago today, we were thrown into the medical world. 
Over the last year we have met countless medical professionals. Cardiologists, Endocrinologists, Neurologists, Gastroenterologists, Sonographers, Midwifes, Nurses, Sisters, Charge Nurses, Advanced Nurse Practitioners, Nurse Consultants, Consultants, Doctors, Surgeons, Scrub Nurses, Physiotherapists,  Geneticists, Dietitians, Radiologists, Psychologists, Anaesthetists, Counselors, Play Specialists, a Bereavement Team and more. And every one of them contributed to the life that Thomas had and beyond. I've made friends in parents, staff, patients, and met some of the most amazing people that I feel privileged to have met and become close to who will stay in my life forever. 
But one year ago yesterday, we were oblivious to how our lives were about to change. 
It's been a rollercoaster year. Would I change it? Yes. Of course I would. I'd have Thomas with us, my two boys at home. But it didn't work out that way. So all we can do is be thankful for what we had, the people we met, the life he was given, the amazing support we have had from friends, family and the team around us and look back at the good, the bad and the ugly. And celebrate what we have. 
And never take any of it for granted. Yesterday last year, I wasn't a heart mum. Until I was.